Special jackets for the stage and elegant happenings

At MOORE DENIM, we create exclusive outfits which combine extravagant design and an outstanding combination of materials. These outfits emphasize as one of a kind the individuality of the wearer at a gala, on a red carpet or at stage performances!
We use not only denim, but a variety of fabrics and combine those with flashy, reflecting, shiny or sparkling materials to achieve a premium look. On request, we manufacture not only jackets, but also matching trousers.
All pieces are made for specific customer needs and with individual measurements. Therefore, this category is more like a showroom and products are available only on request.
---
Examples for exclusive outfits from MOORE DENIM
David Moore at a benefit gala (Volksbühne Cologne, 2018)
Lane McCray from LaBouche (photo shooting: 2018)
Rob Fowler (left) and David Moore at the premiere of Bat Out of Hell (London Coliseum, 2017)
Outfits for Ole Lehmann
We also produced the main outfits for Ole Lehmann's solo tour "Reich & trotzdem sexy". His tour started in fall 2012.
---
Show 1 to 4 (of in total 4 products)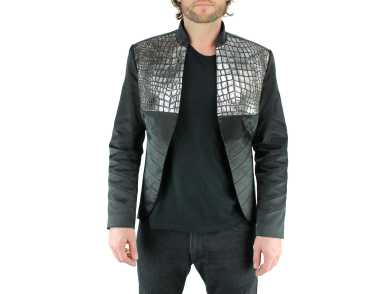 Elegant jacket with genuine leather in crocodile leather appearance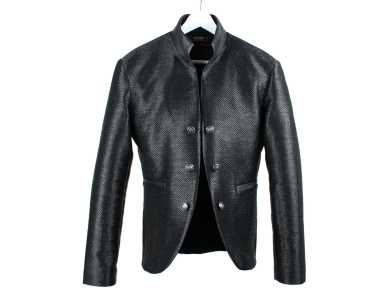 Elegant jacket of a bast fiber and genuine leather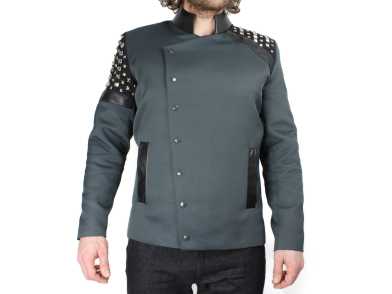 Lined jacket with silver rivets and stripes of black fake leather.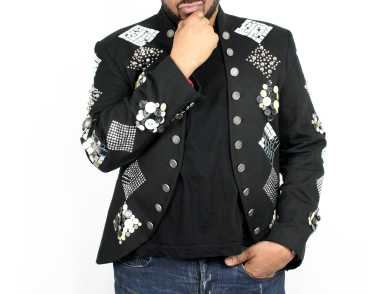 Rich in detail, this jacket has two button tabs and a nehru lapel. It is studded with...
Show 1 to 4 (of in total 4 products)